Hold a Real Book in your Hands

3 Ways to Get Our Paperback
Would you like a free copy of our paperback? Simply go to our Contact Us page, fill in our request form and include your full mailing address, and we will send you a book. These books are being paid for by individuals who are being an Igniter (be sure to read chapter 6!).
If you want a copy of our paperback shipped quickly and you are willing to pay a little extra to get it fast (~1 week) click on the button below and you can order our paperback from TheBookPatch.com for $5.73 plus shipping and handling.
TheBookPatch is a print-on-demand online book store. As soon as your payment is received, they will print the book on a digital color printer and it will be cut-glued-bound like a professional paperback and shipped to you.
The price is "cost" (no mark-up) so you will be paying the lowest possible price for a book that has not yet been printed and is not in anybody's inventory. It typically takes large orders to get the price below $1 per book (see #3 below).
Our book can be shipped to any city and country in the world.
We have an agreement with a well known book printer to print our 180 page English paperback at the following volume-based costs. This means the more books you order - the lower the cost per book will be.
We are providing these larger quantity prices hoping there will be churches and other organizations who will want to order many books in order to give them away - possibly within their local community ("to spread the Good News"), for a particular prison or other outreach ministry, to hand out to family and friends, to use with life groups, to hand out at nursing homes, and so much more.
If you look at the cost of touching 10,000 lives with a book - it comes out to less than the cost of a cup of coffee per person. There is no mark-up (profit) to anyone at these prices. You will be getting our paperback at "cost." You simply pay for shipping. If you wish to order a large volume of books please contact us and we will help you get your books ordered, printed, and shipped.
Our Book is being Translated into Many Languages!
Our book will be available in Spanish, Creole, Hindi, Kinyarwanda, Tamil, Telegu and Urdu in the near future.
The e-versions for these languages will be available long before the printed versions are available. If you are interested in any of the non-English versions of our book, you have our permission to take our PDF files and print the books anywhere you want. We will help get the files ready for printing (formatting, etc.). Contact us with any questions you may have regarding the translated versions of our book.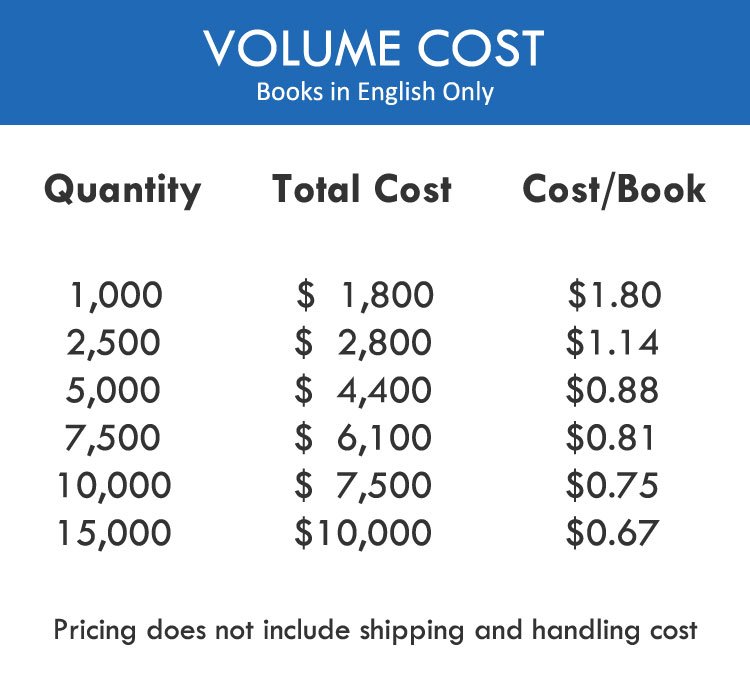 "It is possible to reach everyone on the planet
if we believe, and if we have faith." ~Jim Harper
Custom Paperback Bookmarks
Would you like to put a custom bookmark in the books that you give away?
We have templates that you can download to your computer and customize with your organization's name and address so you can place bookmarks in the books that you give away.
A bookmark adds a thoughtful personal touch to the gift as well as enables you to include your contact information for future reference.
The approximate cost of 1,000 2 x 3.5" bookmarks is $30 per 1000.