Have you ever found it difficult telling others about your faith, or about Jesus?
Of course you have. It's hard. It's personal. This is difficult for everybody.
But we have found an extremely easy way for you to tell people about
what Jesus did for all of us. And it's super easy!
Front Side of Card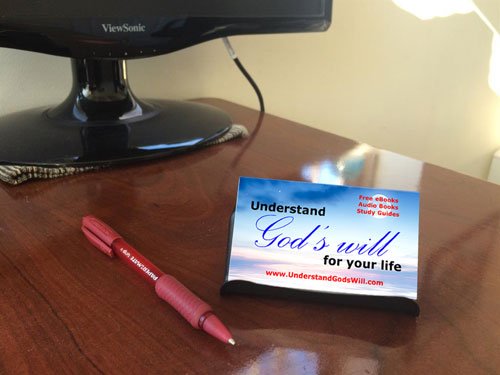 It's So EZZZZZZ
Simply hand out cards like the one shown here (it's the same size as a standard business card) and tell people that you know where they can find a really good and really free book that is chock full of God's many truths.
That's it! Your job is done. If they go to our web site and open and read our free book, or listen to our free audio book, and, if they open their heart and let Jesus in, they will be saved AND they can start to learn and understand God's will for their life!
Back Side of Card
You can order this card - only $33 for 1000
You can order this full color card (you will find the instructions below). You are not ordering this card from us; it's simply a company that we have found to be very good.
The cost is only about $33 for 1000 cards (+ shipping) and they are beautiful high-gloss on both sides. So they are extremely affordable which will allow you to do something that is so extremely easy - simply hand out the card whenever you get the chance.
Who doesn't like a free gift?
After you receive your cards you can carry them in your purse, or wallet, or car, or office. You might even carry a few in your pocket - so that you can hand one out at a moment's notice. You never know when the Lord will put somebody in your path, possibly someone that you don't know and you might never see again, that is hurting or searching. And our book has the answer. You can be their friend - and you can fulfill the mission that God has given you (and all of us). Don't wait for someone else to do this. God needs your participation; He has asked for your participation. Get in the game. Simply hand out the card.
The cards can be handed out to family and friends, to co-workers, to people that you see often, to people that you don't see very often (e.g., shut-ins, quiet neighbors), they can be handed out at nursing homes, at prison ministries, at shelters, at neighborhood gatherings, at life groups, and so much more. The cards can even be put in peoples' mailboxes to show them that someone cares. Put a note on the card that says "God loves you!"
Make the cards available at your church
You can also ask your church leaders if these cards can be made available at your church's information table so people can take a handful when they leave (include a sign that says "take as many as you want - hand them out!"). These people will then have the cards available to hand out: to people that they know, and even people that they don't know, who might like to understand God's will for their life. We will be building up our communities in the name of Christ - one person at a time.
Yes, we can all be a spark
We can all hand out this free card - which simply offers a person a free book. No strings attached. God's gift is free, therefore the book is free. When the time is right they may want to download it and read it. Understanding who God is, and wanting to know who our Creator is, is in our DNA - we are all hardwired to search for this information. We simply need to plant the seed; God will do the rest.
We all need to make this a priority so we can reach everyone - in the whole world. If you don't believe this is possible, read chapter 6 again. Also listen to our song. It is possible. But, you must have faith, faith as tiny as a mustard seed.
If you find someone who doesn't use or own a computer, you can download one of our free ebooks in PDF format and print it on your home printer and give it to them. It's that easy. They can then read the book like a magazine.
We even have a book in PDF format that has LARGER TEXT for older eyes. You can download it and print it and then hand it out at your local nursing home or elder-care facility.
The files have been prepared for you and all you have to do is download them by clicking on the download link below. These are the same files used to print the cards shown above. Save the files to your computer.
Each card template is standard business card size - 2" high by 3.5" wide. After you save the files to your computer go to Uprinting.com where you can order your cards. This card printing company is not associated with our ministry, they just do a really good job printing high quality cards.
While on the Uprinting.com web site
Size

- After you are on the Uprinting web site - on the right side of the page you will see a series of choices. You will need to start by choosing 2 x 3.5" cards.

Front and Back Printing

- You will also want to choose front and back side printing (you want a card with images on both sides of the card).

High Gloss

- If you want a professional high-gloss card on both sides choose the drop down that says 14 pt Cardstock High Gloss UV. It's a few dollars more than the other types of cardstock but it's worth it.

Quantity

- Then choose the quantity that you want.

Upload Files

- When finished making your choices click on the box on the yellow "Upload" box and then browse and find your two saved files (the front and back side card files) that you saved on your computer. You should now "see" your new card.

Make Payment

- You can now proceed and make payment, or go back and change your order. That's it!
Your new cards, exactly like the ones above, will be mailed to you. It takes about a week from start to finish. Approximate cost is $33 per 1000 plus shipping/handling. This is both an easy and a highly affordable way to tell people about Jesus - without actually having to tell people about Jesus. Let the book do the talking.
Many blessings for helping to spread the good news!
Many blessings to you for spreading the good news to family and friends, and also to friends you haven't met yet.
There will be celebration in heaven when they accept Christ's free gift!